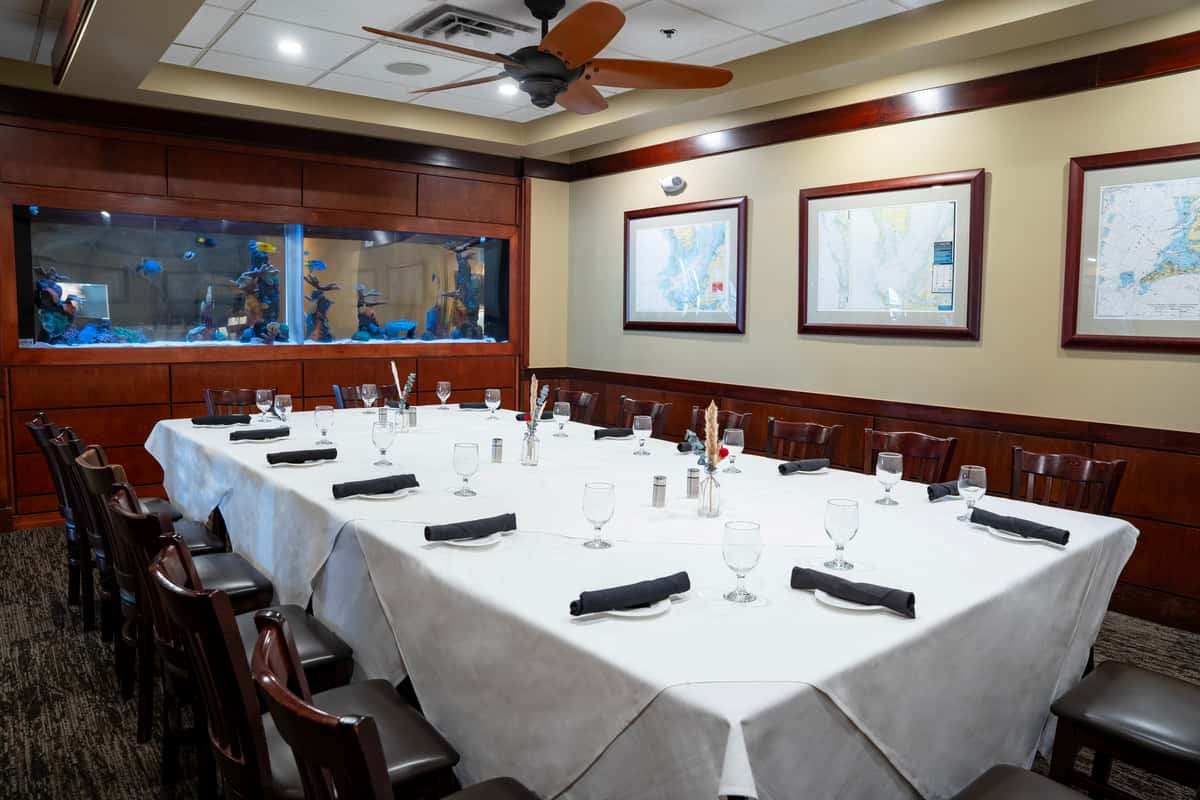 FAQs
Private Events
Frequently Asked Questions
How many guests can you accommodate?
Capacities listed below each room description on the website and in our event information packet are maximum capacity and will vary based on the set up of the space you request. In our full ballroom the guest count can vary depending on your event needs. For a buffet, dance floor, cake table and gift table you can comfortably seat 150 guests. 
What is included with the room rental?
The site fee includes the set up and clean-up of tables, chairs, house linens, and table settings. We have a variety of table sizes including round tables, banquet tables, and high top tables. Events requesting additional tables not available through our venue will require an additional rental fee for those tables.  

House linens include a color selection of black, tan, or white for table linens and black or white napkins. Additional colors, fabrics, and designs are available to rent for an additional fee. Table settings include flatware, dinnerware, and glassware. Table accessories such as chargers, centerpieces, and table numbers may be brought in or rented. 

How long do I have my event space?
Banquet spaces are reserved for a four-hour block of time for your event. We also allow additional time for set-up there is a maximum of 3 hours for ballroom events (based on room availability) and 1 hour for Marina room, Aquarium room, and Terrace. Ballroom events requiring additional event and set up time needed will incur additional fees based on event space and length of time. 

Ceremonies held on the terrace will have access to private terrace space for a 2 hour event until 5:30pm. Events booked on the Terrace will not be guaranteed indoor space in the event of inclement weather or other weather related factors. Additionally, site fees and other charges involved with an event in an outdoor area will not be refunded.

How do I know how to set up my room?
Our experienced sales team will help you create a floor plan based on your needs and make sure your space is set up exactly as planned. 
How many guests can sit at a table?
Seating capacities are based on table sizes. Our recommended capacities for our tables are: 
60" Round Table = 8 Guests
6' Banquet Table = 6 Guests
8' Banquet Table = 8 Guests
36" Square Tables = 4 Guests (Aquarium and Marina Rooms)

Event security is required for the following events but not limited to: School Dances, Proms, Sweet Sixteens, Quinceañeras, Bar/Bat Mitzvahs, and events with Late-Night bar services. We may require your event to have security based on the safety of all attendees and our staff. We will hire and coordinate the security for your event and price will vary dependent on company, length of event, and number of security officers required.
Can we bring our own food and beverages?
At Pier 22 we are a full-service catering company and event space. We provide all food and beverages including alcohol. All outside food and beverages including alcohol are prohibited with the exception of a cake or cupcakes, which must be from a licensed vender. 
Can we bring our own cake?
We have an outstanding onsite bakery and Pastry Chef who would be happy to create a cake for your event! However, if you decide to bring in your own cake, it must be from a licensed vendor. There is a $1.50 charge per guest for ALL outside desserts. We are not responsible for the transportation, delivery, or setup of any outside vendor cakes. Cakes or desserts made by an outside company that require our pastry team to fix or repair will be charged a $500 fee.
We have guests with dietary restrictions, can you accommodate?
Yes, our team of expert chefs can accommodate all dietary restrictions and allergies. We also have an extensive menu of gluten free, vegan and vegetarian options. 
Do you offer bar services?
Yes, we provide all bar services including set up and staff. We have several tiers and packages available. Our experienced catering team will help you decide which the best fit for your event is.
Are any decorations provided?
Pier 22 has limited décor items available to rent. Items available are chair covers, mirrors, and chargers. All other decor you will need to provide and can include items such as balloons, candles, or flowers. No items may be attached to any part of our facility including walls, doors, ceilings, windows, furniture, etc. Ceiling draping, lighting, or decor must be installed by one of our approved vendors and permitted through our event staff. 

*Confetti, string poppers, glitter, bird seed, or snow machines are not permitted. 

You are able to select your own DJ, florist, event planner, decorator, photographer, videographer, and entertainment. All vendors must be insured and we will require a list and contact name/number for each vendor that will be providing services at our facility. 
Do you have a bridal suite, groom's den or dressing rooms?
For weddings in our ballroom, we have a conference room that can be used for wedding party suites, dressing rooms, or staging areas. 
Is parking available for our guests?
Pier 22 has a limited of amount of parking available on the pier. Complimentary Valet Services are available to your guests. Guests will also have access to complimentary parking in Bradenton's Public Garage.  
Can you smoke on the terrace?
Smoking on the terrace is not permitted. We do have a small area outside at the front of the restaurant that is designated for smoking. 
Is an event planner or wedding coordinator required?
While we do not require an event planner, wedding planner, or day of coordinator for your event, we do highly encourage one. Our catering staff will handle and be responsible for all items booked and agreed upon through our facility. We do require a site contact on the day of your event that will be responsible for all vendors, décor, or other items that you have booked for your event. 
What Audio Visual equipment is available?
We have a 55" TV that is $50 to rent as well as a projector and screen that is $200 to rent.

Are there any fees associated with my event?
All private events are subject to 20% service charge regardless of single or separate payments. Service charge applies to the entirety of the check; all food, beverages, rentals, etc. All checks are subject to 7% sales tax.
Are there food and beverage minimums required for my event?
Yes, all event spaces are required to meet our food and beverage minimum. This is based on the room and time of day/week. Any unmet fees will be charged as an additional room fee. To see F&B minimums, please request an information package.
What is your cancelation policy?
For Marina and Aquarium room, we must have a 14-day notice in writing prior to your event date in order to receive a refund on any payment received over the initial deposit.

For Ballroom events, we must have a 30-day notice in writing prior to your event date in order to receive a refund on any payment received over the initial non-refundable deposit.


I am part of your dining rewards program! Can I earn points for my private events?
Yes, you can! When using your reward account to earn points in our private events spaces you will earn 1 point for every $5 spent. Please let your catering coordinator know ahead of time and we will make sure to get your points added to your account.