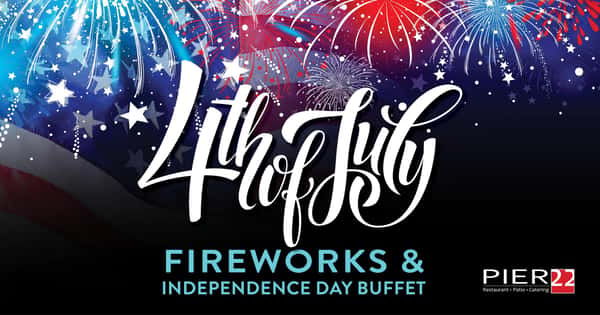 4th of July Fireworks and Independence Day Buffet
Say "Happy Birthday America" at Pier 22! In a salute to the red, white, and starry blue, we get patriotic with Fireworks over the Manatee River and an Independence Day Buffet on Monday, July 4th on the waterside terrace.

The party starts at 7 pm and ends with an explosive fireworks finale by Zambelli International around 9:30 p.m. Your party will keep your reserved table for the entire evening.

Table reservations and tickets are required for access to the pier.

Event Information

Check-In: 6:30 pm

Independence Day Buffet: 7 - 10 pm
Includes an all-you-can-eat buffet and soft drinks.
Alcoholic drinks may be purchased separately.

Fireworks Show: 9:30 pm

Parking: Complimentary valet parking. There are several road closures just before and during the fireworks show, so you will want to be sure to arrive early and certainly before 7:00 pm. Please expect a short wait for the valet. Additional parking is available throughout downtown, including the free garage.

Ticket and Seating Information

Adults: $100 plus tax and gratuity
Children Under 10: $39.99 plus tax and gratuity

Tables are available for groups and tickets must be purchased together.

To book a table, please select your table size from the dropdown menu, then enter the number of adults and/or children at your table on the next step. Your total ticket order must match your table size reservation and will be verified upon check-in. Ticket availability subject to change and more tables will be released based on demand. For questions please email info@pier22.com.

Cancellation Policy
If you must cancel your reservation, please email info@pier22.com with your reservation number or give us a call at 941.748.8087 72 hours before the event date to receive a full refund.
View the Menu and Reserve a Table