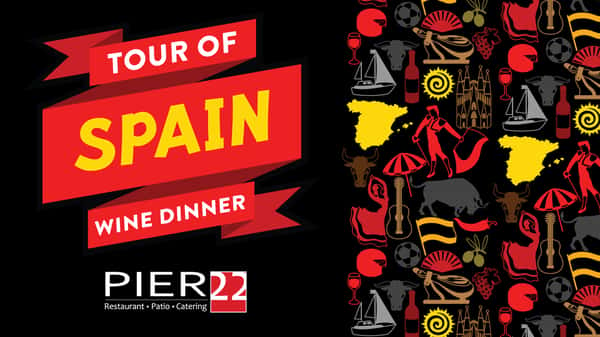 Tour Of Spain Wine Dinner
Join us for our Tour of Spain Wine Dinner, an exclusive, one-time event at PIER 22!
This immersive five-course wine dinner will feature our favorite wines from various wineries from Spain, paired with locally sourced ingredients to create a one-of-a-kind experience. 

Introductions and hors-d'oeuvres begin at 6:30 pm with the first entrée arriving shortly thereafter.

Time: 6:30- 10 pm
Check-in: 6:15 - 6:30 pm
Tickets: $125 + tax & gratuity

Menu
First Course
Roger Goulart Gran Reserva Brut Cava 2017
Albondigas Caseras (pork and beef meatball with spicy garlic cream)
Goat Cheese, Roasted Red Pepper and Fig Coulis on Baguette
Chicken and Chorizo Skewer with Garlic Cumin Aioli

Second Course
Licia Albariño 2021
Poached Halibut with Tomato Saffron Broth

Third Course
Bodegas Emilio Moro Tinto 2018
Mushroom Steak with Smoked Eggplant and Charred Cauliflower

Fourth Course
Contino Reserva 2016
Roasted Lamb with Saffron Potato Purée

Fifth Course
Bodegas Mas Alta Black Slate Vielle Priorat 2018
Torrijas with Dark Chocolate and Fruit Coulis


Ticket and Seating Information
This event will feature a large u-shape community table in our ballroom, giving our speakers the ability to approach and interact one on one with our guests. Tickets are available per seat; simply enter the number of seats you would like and you will be seated together. Ticket availability is subject to change and more may be released based on demand. For questions please email info@pier22.com.

Cancellation Policy
If you must cancel your reservation, please email info@pier22.com or give us a call at
941-748-8087 72 hours before the event date to receive a full refund. 

GET YOUR TICKETS!